About Us
Welcome to FVSave.com, your ultimate online tool for downloading Facebook videos with ease! Our powerful web-based tool allows you to save and enjoy your favorite videos from Facebook with just a few simple clicks.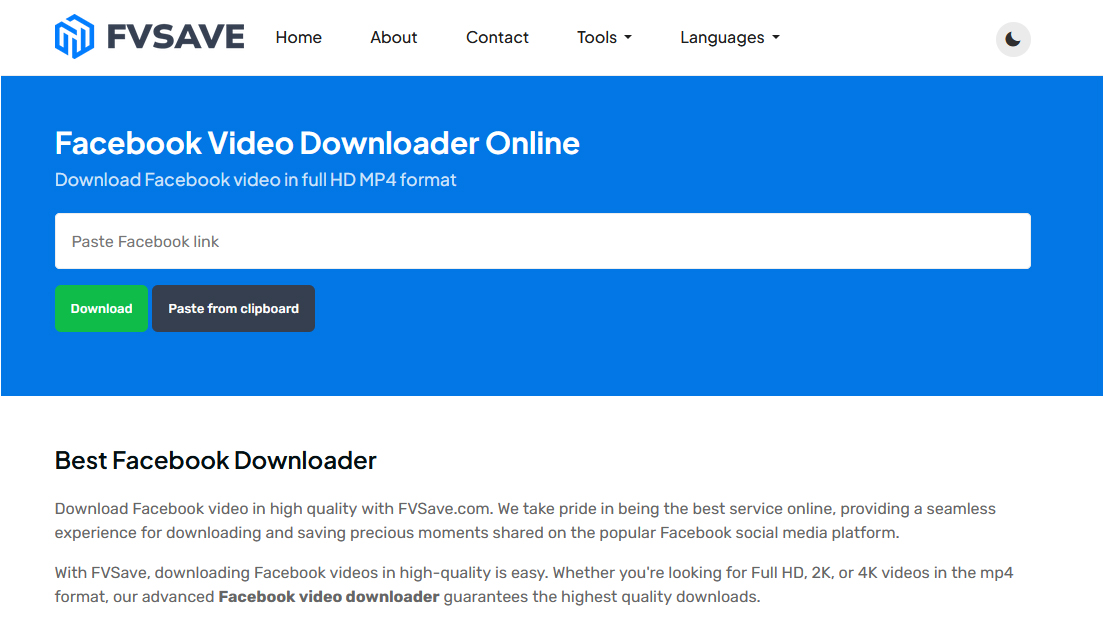 Our Story
At FVSave.com, we understand the need to stay connected and share content on social media platforms. With an array of features, including our Facebook story downloader, Facebook Profile Picture downloader, and Facebook private downloader, we strive to enhance your video downloading experience and make it as seamless as possible.
Our user-friendly interface provides a hassle-free experience for downloading videos from Facebook. Whether it's an entertaining clip, an educational tutorial, a memorable moment, or an inspiring video, you can trust FVSave.com to help you safely save those precious moments and enjoy them at your convenience.
Our Mission
Our mission is to provide our users with a simple, secure, and convenient way to download videos from Instagram. We are committed to continuously improving our website to ensure that it's go-to tool for downloading Facebook video.
Our team of talented developers, and designers are passionate about creating the best possible user experience.
Key Features
1. Facebook Story Downloader: With our unique story downloader, you can now effortlessly save captivating and ephemeral Facebook stories directly onto your device. Preserve those fleeting moments shared by your friends, family, or even public figures for future enjoyment.
2. Facebook MP4 Downloader: Easily download any public or embedded Facebook video in MP4 format. From viral videos to professionally made content, our downloader ensures that you can watch your favorite videos anytime, anywhere, even offline!
3. Facebook Private Downloader: We respect your privacy, and that's why we've developed a secure private downloader. This feature allows you to discreetly download Facebook videos shared privately with you by friends or within closed groups. Your downloaded videos remain confidential, ensuring that you can enjoy them without compromising your privacy.
4. High-Quality Downloads: FVSave.com ensures that you get the best video quality available. Download videos in HD, Full HD, or even 4K resolution, allowing you to fully appreciate the details and clarity of the content you save.
5. Fast and Reliable: We understand that your time is valuable. With our advanced technology, FVSave.com guarantees fast and reliable downloads, ensuring that you can access your favorite videos promptly.
6. Multi-Platform Compatibility: Our Facebook video downloader works seamlessly across various operating systems, including Windows, macOS, iOS, and Android, allowing you to enjoy your downloaded videos on any device.
7. Free and Easy to Use: FVSave.com is completely free, requiring no sign-ups or installations. With its intuitive interface, you can start downloading Facebook videos instantly, with no technical expertise required.
Why Choose FVSave.com?
At FVSave.com, we are committed to providing the best service possible, making it hassle-free for you to download and enjoy Facebook videos whenever and wherever you want. Join countless users who trust our platform and start saving videos today!
Disclaimer: FVSave.com is intended for personal non-commercial use only. Ensure compliance with copyright laws and respect the content creators when downloading and sharing videos.